Janaki Ballav Patnaik | MLA Profile
BEGUNIA CONSTITUENCY
Reservation Type:- General
Thirteenth Assembly (15/05/2004-19/05/2009)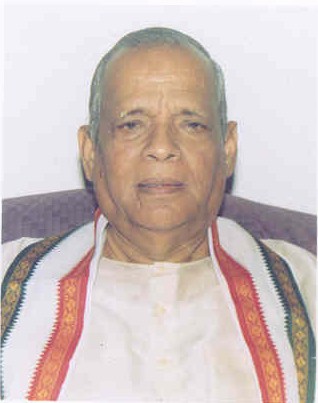 DATE OF BIRTH:03/01/2023
PARENT:Late Gokulananda Patnaik
MARITAL STATUS:Married
SPOUSE'S NAME:Smt. Jayanti Patnaik
QUALIFICATION:B.A(Honours in Sanskrit) Utkal University M.A(Political Science) Banaras Hindu University. D.LitPrajnana Bachaspati (Honoris Causa) of Shri Jagannath Viswa Vidyalaya D.Lit. (Honoris Causa) of Tirupati Sanskrit deemed University.
PROFESSION:Social Work Politics Literature
HOBBY: Swimming Travelling Reading and Writing
FAVOURITE PASTIME:Reading and Writing
SPECIAL INTEREST:Study of History Politics Literature and International Affairs.
SOCIAL ACTIVITIES:Associated with various cultural social and literary organisations and movemens of Orissa Managed relief operation in the riot torn areas of Uttar Pradesh Rajasthan & Andhra Pradesh as Chairman AICC Relief Committee.
LITERAL ACTIVITIES:Editor of English daily `Eastern Times` 1952-66 Editor Oriya daily `Prajatantra` 1952-67 Founder-Editor of `Paurusha` a Monthly Oriya Magazine
COUNTRY VISITED:U.K. U.S.A. Germany Japan Vietnam Thailand U.A.R. Burma Cambodia Russia Afghanistan France Italy Israel.
ADDRESS:
Qrs.No.-S.G.O.-5 Type-VIII Unit-6 Bhubaneswar Pin- 751001.
PERNAMENT ADDRESS:
At/P.O.-Rameswar Dist.-Khurda
---
OTHER INFORMATION:
While studying in Ravenshaw College led the students movement for the removal of Union Jack from College premises. President State Youth Congress Orissa in 1950 Led a successful Farmers Agitation in Madhupur of Cuttack district in 1953 Member Working Committee of Pradesh Congress Committee Orissa 1954-60 Member Orissa Sahitya Academy 1956-67 Member Executive Committee of All-India Newspaper Editor`s Conference 1956-60 Member Senate of Utkal University 1957-67 Member All-India Congress Committee since 1975 President Orissa Pradesh Congress Committee 1978-80 February 1992 to May 1998 December 1999 to October 2001 and January 2004 to June 2004 Member All-India Congress Working Committee 1982-92 2002-2004 Chairman AICC Relief Committee 1990-92.
BOOKS WRITTEN:Written `Gautama Buddha` `Swapna O Sankalpa` Sindhu Upatyaka` Mahabharat` `Ramayana` books Translated `Niti Sataka` `Srungar Sataka` Bairagya Sataka` `Gokulananda Granthavali` `Novels of Bankim Chandra` `Prabandha Sankalan` Srimad Bhagabat` and `Swadhinata Sangramara Smruti`.
---
---
CONSTITUENCY AREA:Constituency information will be updated soon.
---
MLA News:Mla News will be updated soon.