Kanhu Charan Lenka | MLA Profile
CHOUDWAR CONSTITUENCY
Reservation Type:- General
Eleventh Assembly (15/03/1995-29/02/2000)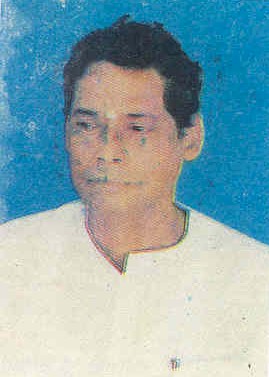 DATE OF BIRTH:02/03/2023
PARENT:Shri Laxman Lenka
MARITAL STATUS:Married
SPOUSE'S NAME:Smt. Bijaylaxmi Lenka
QUALIFICATION:LLB M.A
PROFESSION:Agriculturist
HOBBY: Discussion on morality mythology and spiritualism.
FAVOURITE PASTIME:Gardening Agriculture and Dairy.
SPECIAL INTEREST:Farming Social work and spiritualism.
SOCIAL ACTIVITIES:Founded several Youth Organisations Destitute Homes Adult Education and Relief Camps. Established a number of Schools Colleges Libraries and Phianthropic Organisation in rural areas. Involved with Trade Union Movement. President of about 30 Trade Unio
LITERAL ACTIVITIES:Editor "Phalguni" (Oriya literary magazine Promoting language art and culture) since 1981. Editor "Phalguni Weekly" Publication 1988-89. Contributed several articles on cultivation of high yielding paddy and potatoes. Published a book "SHRUMBANTU SHRBE
COUNTRY VISITED:London Oxford Cambridge (U.K) Paris U.S.A. Alboms Torento New York New Jersy Nesville Washington D.C.Hustan).
ADDRESS:
F-35/C B.J.B. Nagar Bhubaneswar Dist.- Khurda.
PERNAMENT ADDRESS:
Vill-Ambili Jhari Ramachandrapur P.O-Mangarajpur Via-Choudwar Dist-Cuttack.
---
OTHER INFORMATION:
Joined Congress Seva Dal in 1957 during student days. Served for Congress party for continuous 39 years. Worked as observer All India Congress Committees to different States A.P.W.B. Assam Haryana Karnatak 1981-94. Stood behind the leadership of Smt. Indira Gandhi during first split of Congress in 1969 and second split in 1978 as General Secretary OPCC. Awarded by Government of Orissa for being the "FIRST FARMER" in the state to cultivate and produce seeds of hybrid maize and jowar in 1968. Awarded "VIJAY RATNA" for outstanding work in social service and for the development of Orissa in 1991 by the International Friendship Organisation. Awarded "VIJAY RATNA" for outstanding Railway development work in Orissa and whole of the Country in 1993. Awarded Jawaharlal Nehru Excellancy Award presented by Shri R.L.Bhatia Hon`ble Minister for External Affairs on the occasion of the birth day of our first Prime Minister Late Pt. Jawaharlal Nehru at Delhi on 14th Nov. 1995. Unit Head Congress Seva Dal Cuttack Sadar 1961-64. General Secretary National Students` Union of India Orissa Unit 1964-66. President District Youth Congress (I) Committee Cuttack 1967-69. Member (Elected) Orissa Pradesh Congress Committee (Known as Utkal Congress Committee) (Un-divided Congress) 1967-69. General Secretary Orissa Pradesh Congress Committee 1971-74 & 1977-80. General Secretary District Congress Committee (Indira) Cuttack 1969-71. Executive Member Orissa Pradesh Congress Committee since 1971. Member All-India Congress Committee 1980. Member Board of Management O.U.A.T. 1971-74. President Nehru Study Centre All-India Organisation New Delhi. President United Youth Organisation Orissa 1964-80. Life Member Bharat Krushak Samaj since 1966. President Institute of Gandhian Studies and Rural Recontruction Bhubaneswar. President Orissa Krushak Prishad since 1974. Chief Patron Oddissi centre New Delhi. President Satsang Mandir Satsang Vihar New Delhi. President Orissa Thinkers Forum. Chairman Committee for National Integration New Delhi. Chiarman International Friendship Association New Delhi. President Federation of C.P.W.D. Employees` Union (INTUC) New Delhi (Aii-India Organisation). Member All-India Tele-Communication Employees` Welfare Board New Delhi. President Orissa Pradesh Congress Committee 1988-89. Chairman Friends of Soviet Union Orissa Unit since 1989. Member National Drought Relief Committee of A.I.C.C. headed by late Prime Minister Shri Rajiv Gandhi in 1987-88. Member Railway Consultative Committee (Parliament) 1988-89. Member Steel Consultative Committee (Parliament) 1989-90. Chairman Committee for Implementation of 20-Point Programme Orissa 1988-89. Observer of AICC to Karnataka State 1991-92. Observer of AICC to Himachal Pradesh State 1992-93. Observer of AICC to Gujarat State 1992-93. Observer of AICC to Andhra Pradesh State 1985 & 1993-94. Observer of AICC to Assam State 1982 & 1984-85. Chairman Congress (I) Election Campaign Committee in 1991.
---
---
CONSTITUENCY AREA:Constituency information will be updated soon.
---
MLA News:Mla News will be updated soon.
Kanhu Charan Lenka History



1. Indian National Congress
11(th)
CHOUDWAR
2. Indian National Congress(I)
8(th)
CHOUDWAR
3. Indian National Congress
6(th)
CHOUDWAR
4. Congress (R)
5(th)
CHOUDWAR

---