Manmohan Tudu
MLA UDALA CONSTITUENCY
Reservation Type:- Schedule Tribe
Fifth Assembly (23/03/1971-03/03/1973)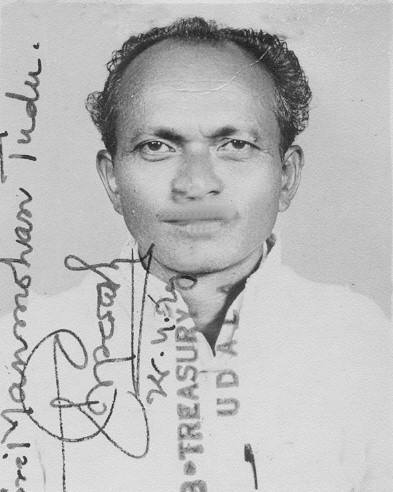 DATE OF BIRTH:14/01/2023
PARENT:Shri Fudam Majhi
MARITAL STATUS:Married
SPOUSE'S NAME:Smt. Sita Devi
QUALIFICATION:Matric
PROFESSION:Cultivation
HOBBY: Hunting and Dancing
FAVOURITE PASTIME:Reading and Gardening.
PERNAMENT ADDRESS:At- Adapal P.O.- Jualia Via- Udala Dist. - Mayurbhanj.

---
OTHER INFORMATION:Was President Utkal Adibasi mangal Samit; Chairman Untouchability Committee Orissa; Chairman Land Sub-CommitteeVice-Chairman Tribes Advisory Council and Harijan Welfare Board
Member Public Undertaking Committee

EXPIRED ON:
09/01/2023
OBITUARY MADE IN THE HOUSE ON 21/03/2022
---
NEWS: News section will be updated soon.


---
Gallery: Gallery section will be updated soon.


---
CONSTITUENCY AREA:
ANDALI ,
ANDHARI ,
ANKURPALI ,
BADABAMBUA ,
BADAJOJODA ,
BAGDEGA ,
BANDAMUNDA ,
BARILEPTA ,
BHALULATA ,
CHITAPEDI ,
DALKI ,
DAREIKELA ,
DUMERJORE ,
HATIBARI ,
JAGADA ,
JAHARI TOLI ,
JALANGBIRA ,
JAMSERA ,
JAREIKELA ,
JAYDEGA ,
JHARBEDA ,
JHUNMUR ,
KACHARU ,
KADOBAHAL ,
KALOSIHIRIA ,
KANDARKELA ,
KAPATMUNDA ,
KARDEGA ,
KARKATNASA ,
KHUKHUNDU BAHAL ,
KHUNTAGAON ,
KOKERAMA ,
KUARMUNDA ,
KUMJHARIA ,
LIMIDA ,
LUKUM BEDA ,
MAJHAPADA ,
MANKO ,
MENMENA ,
NUAGAON ,
PADAM PUR ,
PRATAPPUR ,
PURUNAPANI ,
PUTRIKHAMAN ,
RAIBAGA ,
SALANGA BAHAL ,
SANTOSHPUR ,
SORDA ,
TETERKELA ,
THETEIPOSH ,
TULASIKANI ,
UDUSU ,
URMEI ,
Manmohan Tudu History(Assembly records)
| | | |
| --- | --- | --- |
| 1. Congress (R) | 5(th) | UDALA |
| 2. Jana Congress | 4(th) | UDALA |
| 3. Jana Congress | 3(th) | UDALA |
| 4. Indian National Congress | 2(th) | UDALA |
MLAs of UDALA Constituency
Home
Profile
Initiatives
Family
The Writer