Rabi Singh Majhi
MLA UMERKOTE CONSTITUENCY
Reservation Type:- Schedule Tribe
Seventh Assembly (26/06/1977-17/02/1980)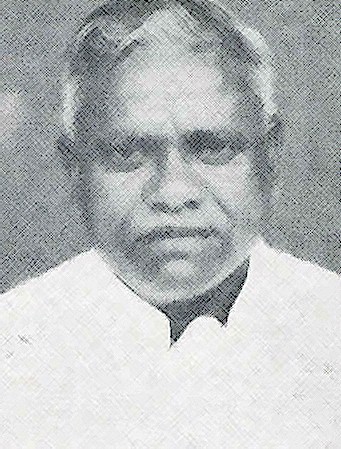 DATE OF BIRTH:21/11/2022
PARENT:Patu Majhi
MARITAL STATUS:Married
SPOUSE'S NAME:Smt. Phuleswar Majhi
QUALIFICATION:Under Matric
PROFESSION:Cultivation
HOBBY: Gardening Photography and newspaper reading.
FAVOURITE PASTIME:Dudu
SOCIAL ACTIVITIES:Fighting against casteism.
PERNAMENT ADDRESS:Village: Balibeda; P.O.: Bhamini; Via.: Umarkote; Dist.: Koraput.

---
OTHER INFORMATION:Joined Congress in 1937
Participated in freedom movement and courted arrest on 9th January 1939
was imprisoned for 6 months and fined Rs
30/-; again was arrested in August 1940 and imprisoned for 2 months and was fined Rs
50/-
During emergency was detained under MISA for 2 months
Acted as President District B
L
D
Committee and President District Adimjati Sevak Sangha Committee

EXPIRED ON:
24/06/2022
OBITUARY MADE IN THE HOUSE ON 27/10/2022
---
NEWS: News section will be updated soon.


---
Gallery: Gallery section will be updated soon.


---
CONSTITUENCY AREA:
Amana ,
Arilo ,
Ayatpur ,
Babujanga ,
Bandhupur ,
Barada ,
Bentkar ,
Bodhapur ,
Dadhibamanapur ,
Dharina ,
Fakirpada ,
Gatiroutpatna ,
Isani-Berhampur ,
Janardanpur ,
Jasapada ,
Kalamishri ,
Kalapada ,
Kandarpur ,
Khandaita ,
Kishannagar ,
Kulasarichuan ,
Mahammadpur ,
Manapur ,
Manijanga ,
Nemalo ,
Nimeisapur ,
Palada ,
Paramahansa ,
Praharajpur ,
Santapur ,
Sirlo ,
Somepur ,
Tilakana ,
Urali ,
Uttarkul ,
Rabi Singh Majhi History(Assembly records)
| | | |
| --- | --- | --- |
| 1. Janata | 7(th) | UMERKOTE |
| 2. Utkal Congress | 6(th) | UMERKOTE |
| 3. Utkal Congress | 5(th) | UMERKOTE |
| 4. Indian National Congress | 4(th) | UMERKOTE |
MLAs of UMERKOTE Constituency
Home
Profile
Initiatives
Family
The Writer