Sanatan Deo
MLA SUKINDA CONSTITUENCY
Reservation Type:- General
Sixth Assembly (06/03/1974-30/04/1977)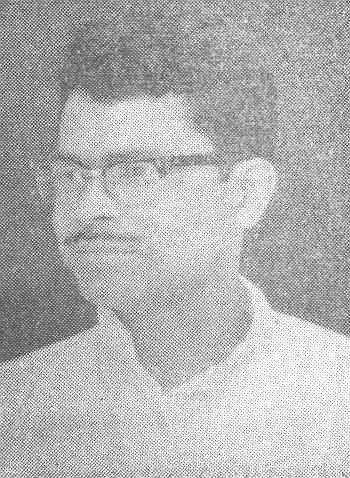 DATE OF BIRTH:20/06/2022
PARENT:Shri Nabaghan Deo
MARITAL STATUS:Married
SPOUSE'S NAME:Smt. Laxmi Deo
QUALIFICATION:M.A(History) M.Ed.
PROFESSION:Teachership
HOBBY: Social and welfare activities
FAVOURITE PASTIME:Gardening Cultivation and reading
PERNAMENT ADDRESS:At/P.O.-Nadiabhanja Dist.- Jajpur.

---
OTHER INFORMATION:Student leader throughtout the career General Secreary Studen Union N
C
College President Bhadrak College Union Member Utkal Pradesh Youth Board 1958 General Secretary All Utkal Studens Union Editor `Rashmi`

EXPIRED ON:
12/11/2022
OBITUARY MADE IN THE HOUSE ON 23/02/2023
---
NEWS: News section will be updated soon.


---
Gallery: Gallery section will be updated soon.


---
CONSTITUENCY AREA:
ASANPAT ,
BADA PATANA ,
BADABHUMURIYA ,
BADANEULI ,
BAIKALA ,
BARBIL ,
BARIA ,
BAUNSHULI ,
BHUINPUR ,
BUDHIKAPUDI ,
CHAKUNDAPAL ,
CHAUTHIA ,
CHEMANA ,
CHINAMALIPASI ,
DALAPAKA ,
DAMAHUDA ,
DHANURJAYPUR ,
DIGIPOSI ,
DUMURIA ,
ERENDEI ,
GANDABEDA ,
GORASA ,
GUNDUNIA ,
JAJAPOSI ,
JALI ,
JAMUNAPOSI ,
JYOTIPUR ,
KANTIAPADA ,
KAPUNDI ,
KENDEIPOSI ,
KHADIKAPADA ,
KHAJIRAPAT ,
KHIREITANGIRI ,
KHUNTAPADA ,
KHUNTAPADA ,
KUNDALA ,
MACHHAGARH ,
MALARPADA ,
MIRIGIKHOJI ,
MURUSUAN ,
MUSHAKHARI ,
PALANAGHATI ,
PARSHALA ,
RAIDIHA ,
RAJNAGAR ,
SADANGI ,
SAHARAPADA ,
SARASKOLA ,
SHANKHUA ,
SILIPADA ,
TANGARAPADA ,
TENDERA ,
TUKUDIHA ,
TURUMUNGA ,
UDAYAPUR ,
UKHUNDA ,
Sanatan Deo History(Assembly records)
| | | |
| --- | --- | --- |
| 1. Indian National Congress | 6(th) | SUKINDA |
| 2. Utkal Congress | 5(th) | SUKINDA |
MLAs of SUKINDA Constituency
Home
Profile
Initiatives
Family
The Writer