Sarat Deb
MLA AUL CONSTITUENCY
Reservation Type:- General
Eighth Assembly (09/06/1980-09/03/1985)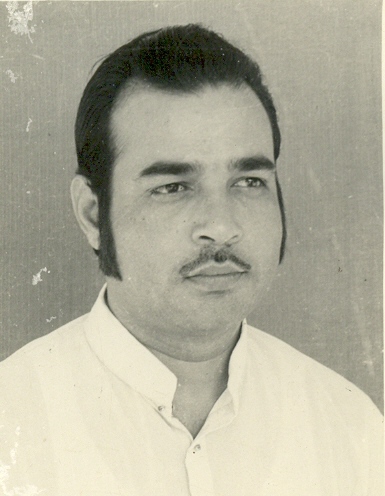 DATE OF BIRTH:26/10/2022
PARENT:Shri Chandra Bhanu Deb
MARITAL STATUS:Married
SPOUSE'S NAME:Smt. Sushree Debi
QUALIFICATION:B.A
HOBBY: Reading Games and Music.
FAVOURITE PASTIME:Reading.
SPECIAL INTEREST:Shooting and games.
SOCIAL ACTIVITIES:Organised rural cultivators for adoption of mechanised farming on co-operative basis worked to bring reformation in educational institutions in constituency.
LITERAL ACTIVITIES:Contributing articles to newspapers.
COUNTRY VISITED:Japan Thailand Hongkong.
PERNAMENT ADDRESS:At.: Aul Palace P.O.: Aul Dist.:Cuttack.

---
OTHER INFORMATION:Entered into politics in 1967
President Krushak Samaj Aul
President various cultural and social institutions
President Kendrapara District Janata
Member of the Technical Advisory Committee 1977-78 and 1978-79

EXPIRED ON:
24/03/2022
OBITUARY MADE IN THE HOUSE ON 24/03/2022
---
NEWS: News section will be updated soon.


---
Gallery: Gallery section will be updated soon.


---
CONSTITUENCY AREA:
BADADEULI ,
BADAGAON ,
BALA ,
BATPALSA ,
BHALIADAL ,
BHARANDIA ,
CHAMPAJHAR ,
CHITRAPOSI ,
DEWANBAHALI ,
DIGDHAR ,
DORI ,
DUDHIANI ,
HATIGODA ,
JARAK ,
KALAMGADIA ,
KENDUJIANI ,
KERKERA ,
KESHDIHA ,
KHANDABANDH ,
KULIPOSI ,
LABANYADEIPUR ,
MAHULDIHA ,
MIRIGINENDI ,
NOTTO ,
PADIABEDA ,
PADMAPOKHARI ,
PATBIL ,
RAMCHANDRAPUR ,
RANIPOKHARI ,
RASAMTOLA ,
SALCHUA ,
SALEIBEDA ,
SARAT ,
SARDIHA ,
SATKOSIA ,
TALAPADA ,
TATO ,
THAKURMUNDA ,
Sarat Deb History(Assembly records)
| | | |
| --- | --- | --- |
| 1. Janata(S) Ch.Singh | 8(th) | AUL |
| 2. Janata | 7(th) | AUL |
| 3. Swatantra Party | 6(th) | AUL |
| 4. Swatantra Party | 5(th) | AUL |
MLAs of AUL Constituency
Home
Profile
Initiatives
Family
The Writer