Balaram Sahoo(Bye)
MLA BHADRAK CONSTITUENCY
Reservation Type:- General
Fifth Assembly (23/03/1971-03/03/1973)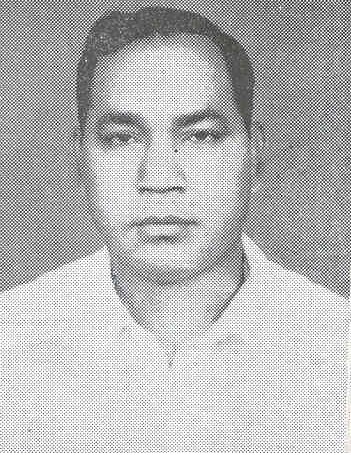 DATE OF BIRTH:03/05/2022
PARENT:Shri Sanatan Sahoo
MARITAL STATUS:Married
SPOUSE'S NAME:Smt. Taramani Sahoo
QUALIFICATION:M.A
PROFESSION:Lecturer
HOBBY: Reading and Writing
SOCIAL ACTIVITIES:Associated with a number of cultural social and service associations.
LITERAL ACTIVITIES:Contributed literary articles to journals and perodicals.
PERNAMENT ADDRESS:AT.- Jagannathpur P.O.- Bhadrak Dist.- Balasore.

---
OTHER INFORMATION:Took part in the freedom struggle while a student in the M
E
School 1942-47; Since then an active supporter of Congress Party; Used to propagate socialistic ideas among the youth through teaching profession
An ardent supporter of democracy and socialism; In due course of time the backwardness of Orissa State was keenly felt and this patriotic urge gradually became stronger and impelled him to join active politics and contested election 1971 on Utkal Congress ticket and lost and again elected in the election held in September 1971; Founder of All-Orissa non-Government College Teachers` Association and continued to be its President since 1964; Member of Senate and Syndicate Utkal University 1960-69; At present member of the Senate Berhampur University

EXPIRED ON:
20/06/2022
OBITUARY MADE IN THE HOUSE ON 06/09/2022
---
NEWS: News section will be updated soon.


---
Gallery: Gallery section will be updated soon.


---
CONSTITUENCY AREA:
BADUAPALI ,
BAHAM ,
BALLAM ,
BARGAON ,
BATAGAON ,
BIRSINGHARH ,
CHHAMUNDA ,
DAINCHA ,
DAKARA ,
DANGARPADA ,
DEOGAON ,
DHAMA ,
GHENUPALI ,
GHOSARMAL ,
GIRISHCHANDRAPUR ,
GODLOISINGH ,
HUMA ,
JAMJORI ,
JAYANTPUR ,
JHANKARPALI ,
JUJUMURA ,
KABRAPALI ,
KANSAR ,
KAYAKUD ,
KESAPALI ,
KISINDA ,
KUKUDAPALI ,
LIPINDA ,
MEGHAPAL ,
NAKTIDEUL ,
NUABARANGAMAL ,
PANIMURA ,
SAHASPUR ,
SAHEBI ,
SALEBHATA ,
SARAPLI ,
SIMILIPAL ,
TAMPERGARH ,
Balaram Sahoo(Bye) History(Assembly records)
| | | |
| --- | --- | --- |
| 1. Utkal Congress | 5(th) | BHADRAK |
MLAs of BHADRAK Constituency
Home
Profile
Initiatives
Family
The Writer