Bijaya Nayak
MLA CHANDABALI CONSTITUENCY
Reservation Type:- General
Fourteenth Assembly (19/05/2009-18/05/2014)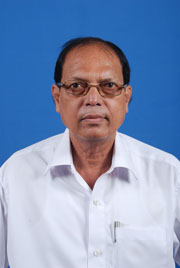 DATE OF BIRTH:10/04/2022
PARENT:Late Manmohan Nayak
MARITAL STATUS:Married
SPOUSE'S NAME:Smt. Basantilata Nayak
QUALIFICATION:Matric
PROFESSION:Social Service
HOBBY: Reading Books Magazines Journals.
FAVOURITE PASTIME:Social Service to keep contact with people.
SPECIAL INTEREST:Dedicate life for the Common people.
SOCIAL ACTIVITIES:Founder Member Tihiri Degree College. Founder Member Manorama Girls High School Bilana. Secretary Tihiri College 1992-2002. Secretary Bilana Sahayog High School 1985-2002.
CULTURAL ACTIVITIES: Organising & Partipation in all types of cultural programmes in Tihiri Block & various part of the Bhadrak District.
LITERAL ACTIVITIES:Short Stories makings organising "Kabita Pathotsab" "Sahitya Asara".
SPORTS AND CLUBS:Volly Ball Foot Ball Basanti Club.
PERNAMENT ADDRESS:At.-Basanti Nagr P.O.-Galagandapur Via.-Guamal Dist.-Bhadrak.

---
OTHER INFORMATION:Sarapanch Bilana G
P
1971-1975 and 1985-1989 P
S
Member Kubera G
P
1992-1995 Chairman Tihiri Block 1992-1995 President Janata Dal Chandbali A
C
1974-1993 Vice President Biju Janata Dal Bhadrak District from the BJD (1997) till continuing District Representive Bhadrak of Hon`ble Minister Ministry of Health & Family Welfare Govt
of Orissa 1990 Member Zilla Parisad Zone-9 Tihiri Block 2002-2006 President Urban Co-operative Bank Bhadrak 2005-2007 Member Zilla Parisad Zone-7 Tihiri Block 2006-2009 President Zilla Parisad Bhadrak 2006-2009

---
NEWS: News section will be updated soon.


---
Gallery: Gallery section will be updated soon.


---
CONSTITUENCY AREA:
ARADI ,
BADAOSTIA ,
BALIGAON ,
BAMANBINDHA ,
BANSADA ,
BARSAR ,
BHATAPADA ,
BHUINBRUTI ,
BIJAYNAGAR ,
CHANDBALI ,
CHARDIA ,
DAULATPUR ,
DHAMARA ,
DOSINGA ,
GHATAPUR ,
GOBINDAPUR ,
GOPINATHPUR ,
JAGULA ,
JALESWARPUR ,
JAMJODI ,
JASHIPUR ,
KAITHAKOLHA ,
KARANJAMAL ,
KARANPALLI ,
MADHAPUR ,
MAUSUDHA ,
MOTTO ,
NALAGOHIRA ,
NALGUNDA ,
NANDAPUR ,
NUAGAON ,
ORASAHI ,
PANCHAPADA ,
PANCHUTIKIRI ,
RAJNAGAR ,
SAHAPUR ,
SUNDARPUR ,
TENTULIDIHI ,
TOTAPADA ,
UTUKUDA ,
Bijaya Nayak History(Assembly records)
| | | |
| --- | --- | --- |
| 1. Biju Janata Dal | 14(th) | CHANDABALI |
MLAs of CHANDABALI Constituency
Home
Profile
Initiatives
Family
The Writer