Biswanath Das(Bye)
MLA ROURKELA CONSTITUENCY
Reservation Type:- General
Fifth Assembly (23/03/1971-03/03/1973)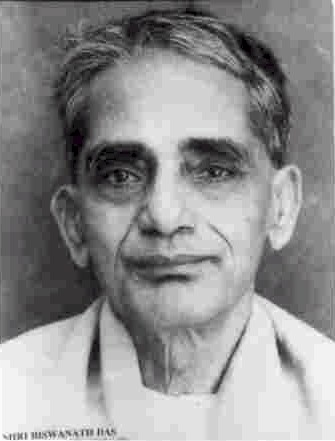 PARENT:Late Madhusudan Das
MARITAL STATUS:Married
QUALIFICATION:B.A LLB
PROFESSION:Agriculturist Social Work
HOBBY: Play with children
FAVOURITE PASTIME:Reading newspapers and Puranic literature
PERNAMENT ADDRESS:Vill.- SubalayaDist.-Ganjam.

---
OTHER INFORMATION:Joined non-Co-operation Movement 1921; Courted imprisonment several times during freedom struggle; Zamindary Ryots` Association(Kisan Sabha)1919 in the district of Ganjam which subsequently extended over the Andhra districts and certain Tamil districts of Madras; and (ii) the Presidency Proprietary Ryots` Association from 1923;was first President of Chatarpur Taluka Board (under Madras);Member(i) Madras Legislative Council1920-30 and Orissa Legislative Assembly1937-43; LeaderCongress Party and Chief Minister Orissa July 1937 to November 1939; suffered imprisonment several times and became President P
C
C
Orissa thrice; elected to the Rajya Sabha in April1954; re-elected in April1961; Appointed Governor of Uttar Pradesh 1962-67; Life Member of Peoples` Society India and President of its Orissa Branch; Subsequently became the President of the Peoples` Society after the demise of late Lal Bahadur Shastri Prime Minister of India 1966; One of the Founder - Trustees of Chaturdham Ved Bhavan Nyas of India; Born in 1889

EXPIRED ON:
02/06/2022
OBITUARY MADE IN THE HOUSE ON 05/09/2022
---
NEWS: News section will be updated soon.


---
Gallery: Gallery section will be updated soon.


---
CONSTITUENCY AREA:
ANATIRIGAM ,
ANGARAGAM ,
ARAKHAPUR ,
ATHAGADA PATANA ,
BADA KHAIRAKHAMA ,
BADAKHARIDA ,
BADAMAHURI ,
BAUNSIA ,
BEGUNIAPADA ,
BERUNHABADI ,
BHUTASARASINGI ,
BUDHAMBA ,
BURUJHARI ,
CHANDANPUR ,
CHINGUDIGHAI ,
CHINGUDIKHOL ,
CHINGUDIPADAR NUAGAM ,
DIGAPADA ,
GANGAPUR ,
GUDIALI ,
JARADA ,
JHADABAI ,
K.BARIDA ,
KALIMEGHI ,
KHAJAPALLI ,
KHANDIANAI ,
KUMBHARAGAM ,
MARDAKOTE ,
MARDAMEKHA ,
MATHASARASINGI ,
PANDIA ,
PHASI ,
RISHIPUR ,
SAMA ,
SANAUSTAPADA ,
SANDHAMULA ,
SANKUDA ,
SIKULA ,
SOURA CHACHINA ,
SUMANDAL ,
TALASARA ,
TANKACHAI ,
Biswanath Das(Bye) History(Assembly records)
| | | |
| --- | --- | --- |
| 1. Independent | 5(th) | ROURKELA |
| 2. Indian National Congress | 3(th) | KODALA WEST |
MLAs of ROURKELA Constituency
Home
Profile
Initiatives
Family
The Writer