Gurupada Nanda
MLA ROURKELA CONSTITUENCY
Reservation Type:- General
Eighth Assembly (09/06/1980-09/03/1985)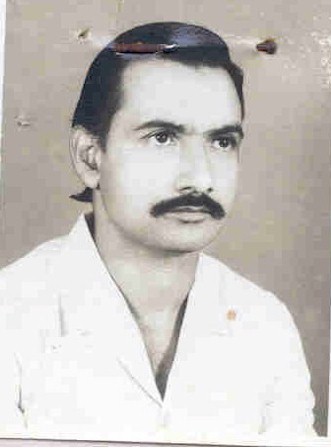 DATE OF BIRTH:08/04/2022
PARENT:Late Dibakar Nanda
MARITAL STATUS:Married
SPOUSE'S NAME:Smt.Sandhya Arati Nanda
QUALIFICATION:B.A LLB
PROFESSION:Advocate
HOBBY: Social Work
FAVOURITE PASTIME:Games like Basket Ball.
SOCIAL ACTIVITIES:Trade Union Activities and promotion of various cultural activities.
LITERAL ACTIVITIES:Write short stories and Essays at times.
COUNTRY VISITED:CubaRussiaIranMoroccSri LankaPakistan and Bangladesh.
ADDRESS:At- Khusi Mahal P.O.- Samant Sahi New Colony Dist.- Cuttack.
PERNAMENT ADDRESS:At.-Kathagara Sahi P.O.-District Cuttack-1.

---
OTHER INFORMATION:An active students leader during study;Elected as office bearer of various College Unions; Formed an All Orissa Student`s League in the year 1969;Joined Congress in the year 1972; Continued as the Youth Congress(I) President since 1978;Member of the State Working Committee of Congress(I); Involved in various Trade Union Activities and associated with various Association and cultural activities

---
NEWS: News section will be updated soon.


---
Gallery: Gallery section will be updated soon.


---
CONSTITUENCY AREA:
AGULA ,
AMALABHATTA ,
AMBADALA ,
BADAKHILAPADAR ,
BANKILI ,
BETHIAPADA ,
BHAIRABAGADA ,
BHATAPUR ,
BHOIMADA ,
BISSAMCUTTACK ,
BUDAGUDA ,
CHANCHADAGUDA ,
CHATIKONA ,
DHAMUNIPANGA ,
DIMIRIGUDA ,
DUKUM ,
DUMMERNELI ,
DUMURIGUDA ,
DUNDULI ,
DURGI ,
GADISESKHAL ,
HAJARIDANGA ,
HATAMUNIGUDA ,
ICHAPUR ,
JAGDALPUR ,
JHIGIDI ,
JHORIDI ,
K.SINGPUR ,
KAILASPUR ,
KANKUBADI ,
KARTIKAGUDA ,
KHEDAPADA ,
KOLONARA ,
KONABAI ,
KOROPA ,
KUMBHARDHAMUUNI ,
KUMUDABALI ,
KURLI ,
KUTRAGADA ,
MAJHIGUDA ,
MUKUNDAPUR ,
MUNIGUDA ,
MUNIKHOL ,
NARAYANPUR ,
PAIKADAKULUGUDA ,
PAIKARANIPINDA ,
PARSALI ,
PATRAGUDA ,
POLOMA ,
PUJARIGUDA ,
RAGHUBARI ,
RASIKOLA ,
REKHAPADAR ,
SAHADA ,
SARADHAPUR ,
SERIGUMA ,
SIBAPADAR ,
SIKARPAI ,
SINGARI ,
SUNAKHANDI ,
SURI ,
TELENGAPADAR ,
THERUBALI ,
THUAPADI ,
Gurupada Nanda History(Assembly records)
| | | |
| --- | --- | --- |
| 1. Indian National Congress(I) | 8(th) | ROURKELA |
MLAs of ROURKELA Constituency
Home
Profile
Initiatives
Family
The Writer