Manas Ranjan Mallik
MLA DHAMNAGAR CONSTITUENCY
Reservation Type:- General
Twelfth Assembly (29/02/2000-06/02/2004)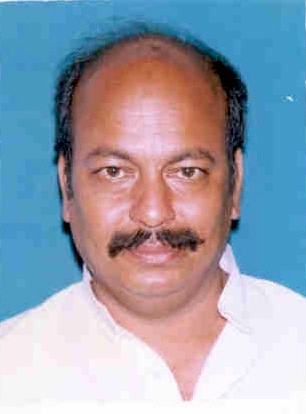 DATE OF BIRTH:18/04/2022
PARENT:Late Hrudananda Mallik
MARITAL STATUS:Married
SPOUSE'S NAME:Smt. Nirupama Mallik
QUALIFICATION:B.A
PROFESSION:Politics
HOBBY: Writing & reading
FAVOURITE PASTIME:Reading & Writing
SPECIAL INTEREST:Publications of Magazines and News Papers
SOCIAL ACTIVITIES:Work for flood and cyclon affected people
LITERAL ACTIVITIES:Published monthly magazine "Sakal"and daily news paper "Sakal"
TELNO:403697, 06784-41088
PERNAMENT ADDRESS:Vill./P.O.-Hasanabad Via- Dhusuri Dist.-Bhadrak.

---
BOOKS WRITTEN:Sakal
EXPIRED ON:
09/10/2022
OBITUARY MADE IN THE HOUSE ON 27/12/2022
---
NEWS: News section will be updated soon.


---
Gallery: Gallery section will be updated soon.


---
CONSTITUENCY AREA:
Akula ,
BADAPALASAPAL ,
Balabhadrapur ,
Banspal ,
Baragarh ,
BAREIGODA ,
BAXIBARIGAON ,
Bayakumutia ,
BHAGAMUNDA ,
BHANRAPUR ,
Bhimkand ,
Bimala ,
Binjabahal ,
BUDHAKHAMAN ,
Chhamunda ,
DAITARI ,
Deuladiha ,
DHURUDIAMBO ,
Dobalapal ,
Fuljhar ,
GAUNIGHASA ,
Gonasika ,
HARICHANDANPUR ,
HUNDA ,
Jagamohanpur ,
JAMUJODI ,
JANGHIRA ,
Jatra ,
JIRANGA ,
JUNGA ,
Kalanda(Kha) ,
Kaliahata ,
Karadangi ,
Karamangi ,
Karangadihi ,
Khuntapada ,
Kuanra ,
MANOHARPUR ,
Nayakote ,
Oriya-birida ,
PITAPITI ,
PITHAGOLA ,
Podang ,
Purujoda ,
Raisuan ,
RASOLA ,
REBANAPALASPAL ,
SAGADAPATA ,
Saharpur ,
Saleikena ,
Sibanarayanpurgoda ,
Singipur ,
Sirigida ,
SUNAPENTHA ,
Tala Kadakala ,
Talapada ,
Tana ,
TANGIRIAPAL ,
Taramakanta ,
Telkoi ,
TENTALAPOSI ,
THAKURAPADA ,
Uper Raigoda ,
Manas Ranjan Mallik History(Assembly records)
| | | |
| --- | --- | --- |
| 1. Independent | 12(th) | DHAMNAGAR |
| 2. Janata Dal | 10(th) | DHAMNAGAR |
MLAs of DHAMNAGAR Constituency
Home
Profile
Initiatives
Family
The Writer