Rajendra Kumar Das
MLA DHAMNAGAR CONSTITUENCY
Reservation Type:- Schedule Cast
Fourteenth Assembly (19/05/2009-18/05/2014)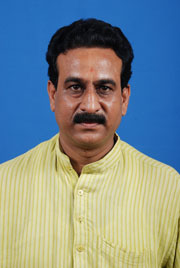 DATE OF BIRTH:08/05/2022
PARENT:Shri Chakradhara Das
MARITAL STATUS:Married
SPOUSE'S NAME:Smt. Kunmun Das
QUALIFICATION:B.A.
PROFESSION:Social Service
HOBBY: Interact with common people
FAVOURITE PASTIME:Read the autobiography of eminent person.
SPECIAL INTEREST:To remain in the heart of every people of "MY ORISSA".
SOCIAL ACTIVITIES:Fight against corruption and to work for the upliftment of the down-trodden people.
CULTURAL ACTIVITIES:Working for the development of the folk culture of Orissa and traditional tribal art and culture.
ADDRESS:Salandi Colony Bypass P.O./Dist.-Bhadrak.
EMAIL:rajendradas1969@yahoo.com
PERNAMENT ADDRESS:At/P.O.-Kanpada. via.-Tihidi Dist.-Bhadrak.

---
OTHER INFORMATION:Ex President F
M
College Balasore Ex President B
Y
J
O
Bhadrak Dist State council Member BJD Member of "Pujya Puja Sansada" Bhusuri Dhamnagar

---
NEWS: News section will be updated soon.


---
Gallery: Gallery section will be updated soon.


---
CONSTITUENCY AREA:
ACHAK ,
ANANDAPUR ,
ARJUNPUR ,
ASURALI ,
BAMKURA ,
BARO ,
BAYANGDIHI ,
BHAGABANPUR ,
BHATASAHI ,
BILANA ,
BODAK ,
CHUDAKUTI ,
DAIPUR ,
DALANGA ,
DHAMNAGAR ,
DHUSURI ,
DOBAL ,
DOLASAHI ,
FATEPUR ,
GOVINDAPUR ,
GUAMAL ,
HASNABAD ,
JAYNAGAR ,
KALYANI ,
KANPADA ,
KARADA ,
KASIMPUR ,
KATASAHI ,
KHADIPADA ,
KHAPARPADA ,
KOTHAR ,
KUBERA ,
NADIGAON ,
PADHANI ,
PALASAHI ,
PALIABINDHA ,
RADHABALLAVPUR ,
RAIPUR ,
SOHADA ,
SYAMSUNDARPUR ,
TALAGOPABINDHA ,
TALAPADA ,
Rajendra Kumar Das History(Assembly records)
| | | |
| --- | --- | --- |
| 1. Biju Janata Dal | 14(th) | DHAMNAGAR |
MLAs of DHAMNAGAR Constituency
Home
Profile
Initiatives
Family
The Writer