Radhamohan Nayak
MLA BANGIRIPOSI CONSTITUENCY
Reservation Type:- Schedule Tribe
Fifth Assembly (23/03/1971-03/03/1973)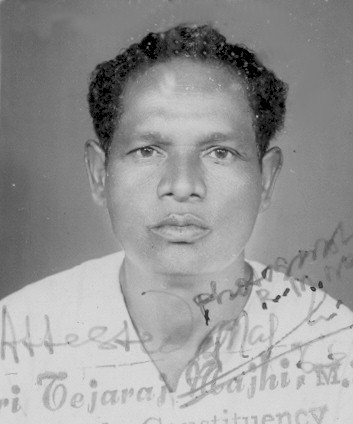 DATE OF BIRTH:01/01/2023
PARENT:Late Gour Mohan Nayak
MARITAL STATUS:Married
SPOUSE'S NAME:Smt. Lalitamoni Nayak
QUALIFICATION:Under Matric
PROFESSION:Cultivation
HOBBY: Reading and Gardening
FAVOURITE PASTIME:Agriculture Adibasi dance Shooting and Photography.
SPECIAL INTEREST:Agriculture
ADDRESS:At/P.O.- Angargadia P.O.- Kuchei P.S.- Kuliana Dist.- Mayurbhanj.
PERNAMENT ADDRESS:At.- Ghodapal P.O.- Parulia Dist- Mayurbhanj.

---
OTHER INFORMATION:Served the Adivasi peple as the President of the Adibasi Sangha Mayurbhanj

EXPIRED ON:
04/07/2022
OBITUARY MADE IN THE HOUSE ON 28/08/2022
---
NEWS: News section will be updated soon.


---
Gallery: Gallery section will be updated soon.


---
CONSTITUENCY AREA:
AMBABHONA ,
BANJIPALI ,
BAUSENMURA ,
BEHERAPALI ,
BHADIGAON ,
BHAINATARA ,
BHATLI ,
BHUKTA ,
BIJAPALI ,
BIRJAM ,
CHADEIGAON ,
CHHURIAPALI ,
DAMALPALI ,
DUMBERPALI ,
DUNGURI ,
GARVANA ,
GHESS ,
HALUPALI ,
HATISAR ,
JHAR ,
KALANGAPALI ,
KAMGAON ,
KANAPALI ,
KANDPALA ,
KANGOAN ,
KAPASIRA ,
KARANDOLA ,
KASHAIPALI ,
KELENDAPALI ,
KHARMUNDA. ,
KUCHIPALI ,
KUMBHO ,
LAKHANPUR ,
LEBIDI ,
MULBAR ,
NARANGPUR ,
NUAGARH ,
PANDAKIPALI ,
PANIMURA ,
PETUPALI ,
RENGALI ,
RUCHIDA ,
SALEPALI ,
SANIMAL ,
SARKANDA ,
SOHELLA. ,
SRIGIDA ,
SUKUDA ,
TABDA ,
TEJAGULA ,
TUNGIBANDHALI ,
URDUNA ,
UTTAM ,
Radhamohan Nayak History(Assembly records)
| | | |
| --- | --- | --- |
| 1. Swatantra Party | 5(th) | BANGIRIPOSI |
| 2. Swatantra Party | 4(th) | BANGIRIPOSI |
| 3. All India Ganatantra Parishad | 2(th) | BANGIRIPOSI |
MLAs of BANGIRIPOSI Constituency
Home
Profile
Initiatives
Family
The Writer