Sarojini Hembram
MLA BANGIRIPOSI CONSTITUENCY
Reservation Type:- Schedule Tribe
Fourteenth Assembly (19/05/2009-18/05/2014)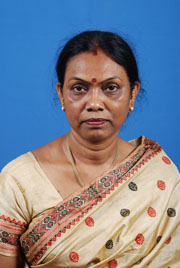 DATE OF BIRTH:01/10/2022
PARENT:Shri Chaitanya Prasad Majhi
MARITAL STATUS:Married
SPOUSE'S NAME:Shri Bhagirathi Nayak
QUALIFICATION:M.Mus
PROFESSION:Social Service
HOBBY: Music and Gardening.
FAVOURITE PASTIME:Moving in Tribal areas full of natural beauties.
SPECIAL INTEREST:Research on Tribal Culture.
SOCIAL ACTIVITIES:Associated with a number of social and cultural organisations.
CULTURAL ACTIVITIES:Released one audio cassatte on Jhumar-singer. organising and participation in verious musical festivals both classical and tribal musics. Vocal artists all india radio cuttack since-1983 artists Doordarshan since-1983. Films and Serials:-SREEJAN-a documentary film in Santal (LENT Voice). ARANYARODANA- Oriya Film based on Santal( Voice & Playback singing) SANTAL-A documentary on Santal Life Style (Playback Singing Actress & Production Controller) SHREE RADHA- A Serial (13 episode based on
COUNTRY VISITED:Nepal
ADDRESS:Ward No.-19 Bhagra road Baripada Mayurbhanj.

---
OTHER INFORMATION:Vice-president Baripada BJD
Member Policy Holders Committee LIC
Member Programme Advisory Committee All India Radio Cuttack Member State Level Committee on Natural Calamities-2009

---
NEWS: News section will be updated soon.


---
Gallery: Gallery section will be updated soon.


---
CONSTITUENCY AREA:
BADAGAN ,
BAIGANBADIA ,
BALIDIHA ,
BANAKATI ,
BANGRIPOSI ,
BAUNSABILLA ,
BHAGABANPUR ,
BHALUKI ,
BHUASUNI ,
BRAHMANGAN ,
BUDHIKHAMARI ,
CHANDANPUR ,
CHANDUA ,
DHOBANISOLE ,
DIGHI ,
DUMURDIHA ,
GANGRAJ ,
GENDAPOKHARI ,
GOLAMUNDAKATA ,
GOUDARUMA ,
GUNDIHUDI ,
KALABADIA ,
KALAPATHAR ,
KENDUA ,
KEUTUNIMARI ,
KHANDIA ,
KUABUDA ,
KUCHEI ,
KUCHILAGHATI ,
KULIANA ,
KUMBHARMUNDAKATA ,
KUSUMBANDHA ,
MAHULIA ,
MARANGTANDI ,
NAFRI ,
NISCHINTA ,
NODHANA ,
PAIKABASA ,
PARULIA ,
PATHURI ,
PATIHINJA ,
PURUNAPANI ,
RANGAMATIA ,
SAMAKHUNTA ,
SARAGACHHIDA ,
SINDURGOURA ,
SIRISHBANI ,
SORISPAL ,
SYAMSUNDARPUR ,
Sarojini Hembram History(Assembly records)
| | | |
| --- | --- | --- |
| 1. Biju Janata Dal | 14(th) | BANGIRIPOSI |
MLAs of BANGIRIPOSI Constituency
Home
Profile
Initiatives
Family
The Writer