Sanjeeb Kumar Sahoo | MLA Profile
ATHAMALLIK CONSTITUENCY
Reservation Type:- General
Fifteenth Assembly (18/05/2014-Running)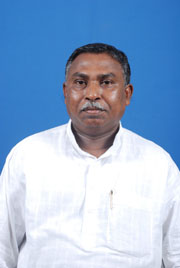 Ph:M-9437131353

DATE OF BIRTH:02/05/2022
PARENT:Shri Dasaratha Sahoo
MARITAL STATUS:Married
SPOUSE'S NAME:Smt. Usharani Sahoo
QUALIFICATION:B.A B.Ed.
PROFESSION: Cultivation
HOBBY: Public Contact
FAVOURITE PASTIME:To motivate the people for constructive work
SPECIAL INTEREST:To come across with diffeent section of people and visit different places
SPORTS AND CLUBS:Organising about sub-divisional Cricket Turnament at Angapada in 1988.
ADDRESS:
Qrs. No.-(DS) 10/2 Unit-IV M.L.A. Colony Bhubaneswar
956764-94212
PERNAMENT ADDRESS:
At/P.O.-Angapada Via-Rajkishor Nagar Dist.-Angul
---
OTHER INFORMATION:
President Janta Dal Biramaharajpur Constituency in 1988 and Dist. Janata Dal Vice President of Dhenkanal in 1990; Sarapanch-Angapada Gram Panchayat Dist.-Angul (1984-85) Vice-Chairman- Kishor Nagar Block Dist.-Angul (1984-85) High School Head Master (1981084) Secretary of Anchalika Mahabidyalaya Governing body Angapada Dist.-Angul S.S.G. Secretary Students Union of Rairakhol College; established one college that is Anehalika Mahabidyala and established (4) four High Schools and one M.E. School namely; 1-Ambapal High School 2-Jharabereni High School 3- Sanjamura High School 4-Jamunali High School and 5-Ma Maheswari M.E. Schoo natada.
---
---
CONSTITUENCY AREA:Constituency information will be updated soon.
---
MLA News:Mla News will be updated soon.