Surendra Singh Bhoi
MLA TITILAGARH CONSTITUENCY
Reservation Type:- General
Fourteenth Assembly (19/05/2009-18/05/2014)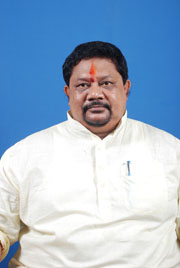 DATE OF BIRTH:06/05/2022
PARENT:Shri Ramesh Chandra Singh Bhoi
MARITAL STATUS:Married
SPOUSE'S NAME:Smt. Monika Singh Bhoi
QUALIFICATION:Under Graduate
PROFESSION:Agriculturist
HOBBY: Drama and Body Building
FAVOURITE PASTIME:Organisation of youth for cultural activities. Attending meeting and function of various organisation and institution.
SPECIAL INTEREST:Sports games cultural activities development of educational and social economic condition of tribal and backward people of area.
SOCIAL ACTIVITIES:Organising tribal and harijan youth and other down trodden people for their upliftment.
CULTURAL ACTIVITIES:Organising tribal cultural activities and social cultural programme.
SPORTS AND CLUBS:Body Building.
COUNTRY VISITED:Nepal
TELNO:400062, 06655-75392(PP)
PERNAMENT ADDRESS:At/P.O.-Saintala Dist.-Balangir.

---
OTHER INFORMATION:Vice President District youth congress Bolangir President U
G
D
College Belgaon President Dhunabhata College Vice- President P
S
College Saintala Vice- President P
S
College Belpara President P
N
College Tikrapara President Mandal College Mandal
Awarded Gold Medal in All India Body Building competition
Titled "Mr
India" held by India Body Building Federation at Puri in 1984
Titled "Bhubaneswar Kumar" in 1982 Titled "Kalinga Keshari" in 1983
Jained congress Party in 1986
Director Forest Corporation 1996 -1999

---
NEWS: News section will be updated soon.


---
Gallery: Gallery section will be updated soon.


---
CONSTITUENCY AREA:
ADABAHAL ,
AMBPALI ,
BADANGOMUNDA ,
BANDUPALA ,
BANJIPADAR ,
BELGAON ,
BHADRA ,
BHALEGAON ,
BIJEPUR ,
BINEKELA ,
BIRMUNDA ,
BUDABAHAL ,
CHINCHED ,
DENG ,
DHARAPGARH ,
DIGSIRA ,
DUNGURIPALI ,
GANDPATRAPALI ,
GHANTBAHALI ,
GHODAR ,
GHUNA ,
GHUNSAR ,
GUDVELLA ,
JAGUA ,
JAMUT ,
JHINKIDUNGURI ,
JURABANDH ,
KANDHKELGAON ,
KANSAR ,
KARAMTALA ,
KERMELI ,
KHOLAN ,
KUIKEDA ,
KUMBHARI ,
KURSUD ,
KUSKELA ,
LUTHURBANDH ,
MADHEKELA ,
MAHULPADA ,
MANIGAON ,
MARLAD ,
NAREN ,
NUAPADA ,
PARASARA ,
RUSUDA ,
SAGADGHAT ,
SAINTALA ,
SAMARA ,
SIHINI ,
SILUAN ,
SISKELA ,
TENTELKHUNTI ,
TIKRAPADA ,
TUSRA ,
Surendra Singh Bhoi History(Assembly records)
| | | |
| --- | --- | --- |
| 1. Indian National Congress | 14(th) | TITILAGARH |
| 2. Indian National Congress | 12(th) | SAINTALA |
| 3. Indian National Congress | 11(th) | SAINTALA |
MLAs of TITILAGARH Constituency
Home
Profile
Initiatives
Family
The Writer