Tribikram Mallik
MLA BIJEPUR CONSTITUENCY
Reservation Type:- Schedule Cast
Fifth Assembly (23/03/1971-03/03/1973)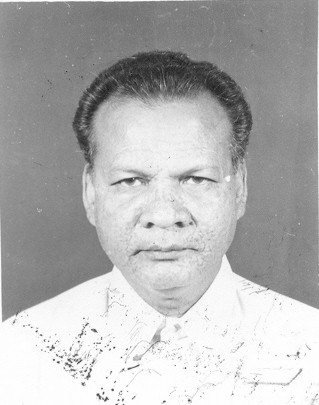 DATE OF BIRTH:20/01/2023
PARENT:Shri Subha Mallick
MARITAL STATUS:Married
SPOUSE'S NAME:Smt. Ratnamanjari Devi
QUALIFICATION:B.A
PROFESSION:Cultivation
HOBBY: Reading Classics
FAVOURITE PASTIME:Music and Badminton
SOCIAL ACTIVITIES:Upliftment of Adibasis and Harijans
LITERAL ACTIVITIES:Book in Oriya "Brigadier Vikram" in manuscript
PERNAMENT ADDRESS:Vill./P.O.- Kumbhari; P.S.- Barpali Dist.-Bargarh.

---
OTHER INFORMATION:Higher education in public Administration and Political Organisation in the Central College Bangalore; Joined Congress-R
October 1969; In August 1970 lead a 10 mile march of hundreds of Harijans to protest against unlawful arrest and Police excesses; Member Government Assurance Committee from 7th May 1971; Member of the Senate of Sambalpur University from 1st January 1967; joint Convenor of the Action Committee of the Scheduled Castes and Tribes Legislatures Orissa; Convenor of Welfare wing of the U
P
C
C
; Stood first in the following competitions during Colege career-English Dabate English Short story Oriya Short Story General knowledge 1962

EXPIRED ON:
30/01/2023
OBITUARY MADE IN THE HOUSE ON 13/02/2023
---
NEWS: News section will be updated soon.


---
Gallery: Gallery section will be updated soon.


---
CONSTITUENCY AREA:
AMANAKUD ,
Bainchua ,
Balianta ,
Bentapur ,
Benupur ,
BHAKARSAHI ,
BHAPUR ,
Bhingarpur ,
DEULIDHARPUR ,
GAREDIPANCHAN ,
GUAPUR ,
Jagannathpur ,
Jayadeb ,
Jhintisasan ,
Kakarudrapur ,
KURUNJIPUR ,
MAJHIHARA ,
MARTHAPUR ,
NARISO ,
PAMPALO ,
Prataprudrapur ,
Pratapsasan ,
Puranpradhan ,
RAJAS ,
Sarakana ,
Satyabhamapur ,
SUMANASASAN ,
TURINTIRA ,
Umadeibrahmapur ,
Tribikram Mallik History(Assembly records)
| | | |
| --- | --- | --- |
| 1. Congress (R) | 5(th) | BIJEPUR |
MLAs of BIJEPUR Constituency
Home
Profile
Initiatives
Family
The Writer