Pradeep Maharathy
MLA PIPILI CONSTITUENCY
Reservation Type:- General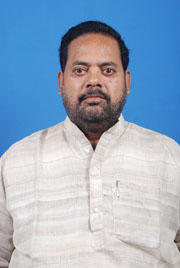 DATE OF BIRTH:04/07/2022
PARENT:late Gokulananda Moharathy
MARITAL STATUS:Married
SPOUSE'S NAME:Smt. Prativa Mishra
SON:1
QUALIFICATION:B.A
PROFESSION:Cultivation
HOBBY: Studying and Gardening
SPECIAL INTEREST:Development of Backward Communities
SOCIAL ACTIVITIES:Associated with a number of social organisations.
CULTURAL ACTIVITIES:
SPORTS AND CLUBS:
ADDRESS:Qr.No.-2 Type-VIII Unit-3 Bhubaneswar
EMAIL: p(dot)maharathy(dot)ola(at)nic(dot)in
TELNO:9437036805,
PERNAMENT ADDRESS:At- Khorapadia P.O.-Kanti Via. Pipli Dist.-Puri.

---
OTHER INFORMATION:Secretary Government Morning College Puri 1975 Arrested in MISA (Emergency) 1975 President of S
C
S
College Puri (Student Union) 1977 President of CARD Bank Puri Dist
1990-95 Government Deputy Whip Orissa President of Central Cooperative Bank President of MARKFED Orissa 1992-96

BOOKS WRITTEN:
---
NEWS: News section will be updated soon.


---
Gallery:
---













































---
CONSTITUENCY AREA:
ABHAYAMUKHI ,
ARISHAL ,
BERABOI ,
BHARATIPUR ,
CHAINPUR ,
CHANDRADEIPUR ,
DANDAMUKUNDAPUR ,
DELANG KOTHABARA ,
DHANAKERA ,
GADAMOTARI ,
GOBINDAPUR ,
GODIPUT MATIAPADA ,
GUALIPADA ,
HARIRAJPUR ,
HATASAHI ,
JAGANNATHPUR ,
JASHUAPUR ,
JENAPUR ,
KALYAN PUR ,
KANTI ,
LAXMINARAYANPUR ,
MANGALPUR ,
MUNINDA ,
NUASASHAN ,
ORAKALA ,
PAMASARA ,
POPARANGA ,
PUBASASHAN ,
RENGALA ,
RUPADEIPUR ,
SAHAJAPUR ,
SARASWATIPUR ,
SAURIA ,
SINGHABRAHMAPUR ,
SRIPURUSOTTAMPUR ,
SUJANPUR ,
TEISHIPUR ,
Pradeep Maharathy History(Assembly records)
| | | |
| --- | --- | --- |
| 1. Biju Janata Dal | 16(th) | PIPILI |
| 2. Biju Janata Dal | 15(th) | PIPILI |
| 3. Biju Janata Dal | 14(th) | PIPILI |
| 4. Biju Janata Dal | 13(th) | PIPILI |
| 5. Biju Janata Dal | 12(th) | PIPILI |
| 6. Janata Dal | 10(th) | PIPILI |
| 7. Janata Dal | 9(th) | PIPILI |
MLAs of PIPILI Constituency
Home
Profile
Initiatives
Family
The Writer