Birendra Pandey
MLA JHARSUGUDA CONSTITUENCY
Reservation Type:- General
Eleventh Assembly (15/03/1995-29/02/2000)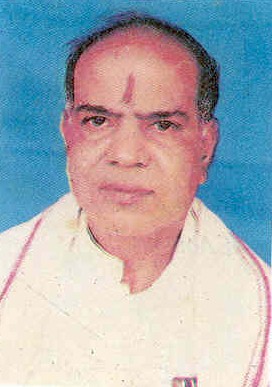 DATE OF BIRTH:01/03/2023
PARENT:Late Galab Chandra Pandey
MARITAL STATUS:Married
SPOUSE'S NAME:Smt. Sakuntala Pandey
QUALIFICATION:LLB M.A(History)
PROFESSION:Advocate Agriculturist
HOBBY: Reading Books Periodicals Magazines and Newspapers.
FAVOURITE PASTIME:Reading & Gardening
SPECIAL INTEREST:Social service & public contact
SOCIAL ACTIVITIES:Rendering social service to people helped in establishment and managemen of various educational institutions Organising Co-operative Unions Charitable Institution for upliftment of down-trodden people.
PERNAMENT ADDRESS:At.-Puranabasti P.O.-Kalimandir Road Jharsuguda Dist.-Jharsuguda.

---
OTHER INFORMATION:Joined Youth Congress in 1964 Interested in formin Charitable Institutions and Private Limited Company for employment to the educated youths Secretary Jharsuguda Town Congress Committee 1975-77 Councillor Jharsuguda Municipality 1974-78 Secretary District Youth Congress 1978-80 Chairman Jharsuguda Municipality 1984-90 Vice-President D
C
C
Sambalpur Chairman District Sevadal Sambalpur Vice-President INTUC Orissa Branch Chairman Labour Cell P
C
C
Orissa

---
NEWS: News section will be updated soon.


---
Gallery: Gallery section will be updated soon.


---
CONSTITUENCY AREA:
ADAPADA ,
BAHARAPUR ,
BALARAMPUR ,
BARADABILI ,
CHHANAMERI ,
CHUDANGAPUR ,
DAYANIDHIPUR ,
DENGADI ,
DHARAKOTE ,
DHAUGAON ,
ERENDRA ,
G.DAMODARAPALLI ,
GANGAPUR ,
GOUTAMI ,
JAGAMOHAN ,
JAHADA ,
JHADABANDHA ,
JHARAPARI ,
JURA ,
KANKARADA ,
KAUDIA ,
KHALINGI ,
MACHHAKOTE ,
MANIKYAPUR ,
MAULABHANJA ,
MUNDAMARAI ,
P. RAMACHANDRAPUR ,
PATAPUR ,
PATTIGUDA ,
PODAMARI ,
RUGUMU ,
SABA ,
SAHASPUR ,
SARADHAPUR ,
SATAPENTHA GOPALPUR ,
SINGIPUR ,
SINGIPUR ,
T.GOBINDAPUR ,
Birendra Pandey History(Assembly records)
| | | |
| --- | --- | --- |
| 1. Indian National Congress | 11(th) | JHARSUGUDA |
| 2. Congress | 9(th) | JHARSUGUDA |
| 3. Indian National Congress(I) | 8(th) | JHARSUGUDA |
MLAs of JHARSUGUDA Constituency
Home
Profile
Initiatives
Family
The Writer