Sairindri Nayak
MLA JHARSUGUDA CONSTITUENCY
Reservation Type:- General
Seventh Assembly (26/06/1977-17/02/1980)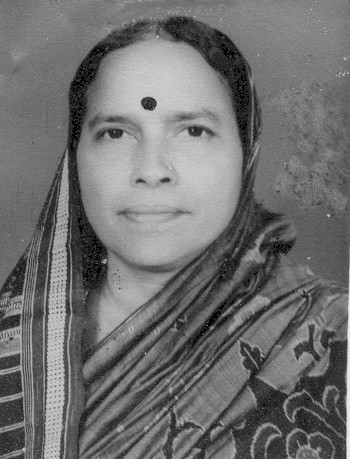 DATE OF BIRTH:01/07/2022
PARENT:Late Brundaban Panda
MARITAL STATUS:Married
SPOUSE'S NAME:Shri Durga Prasad Nayak
QUALIFICATION:Under Graduate
PROFESSION:Social Work Housewife
HOBBY: Cooking gardening knitting and sewing.
FAVOURITE PASTIME:Organising social welfare activities; Reading Visiting Villages giving Radio talk.
SOCIAL ACTIVITIES:Organised relief work for draught affected area.
COUNTRY VISITED:G.D.R.
PERNAMENT ADDRESS:At/P.O.: Budharaja; Dist.: Sambalpur.

---
OTHER INFORMATION:Councillor Sambalpur Municipality from 1958 to 1969 President Sambalpur District Primary Teachers` Federation for 13 years; Member Governing Body V
S
S
Medical College Burla Women`s Lewis Girls High School and Government Boys` High School Sambalpur; Member Governing Body Laxminarayan College Jharsuguda; Secretary Nariseva Sangha Sambalpur; Member Orissa Khadi and Village Industries Board for three years; served on different occasions in the following Boards and Committees- Women`s Education Board N
C
C
Board National Savings Board Non-Students Youth Welfare Committee Social Welfare Board President All Orissa Non-Gazetted Biological Products Union Hirakud Industrial Workers Labour Union; Hirakud Bhaskar Textile Labour Union Jharsuguda; Organising Secretary Western Zone All Orissa Red Cross Society; Vice-President Sambalpur District Red Cross Society
Associated with the establishment of Sambalpur University; Medical College Women`s College at Sambalpur; was a member of Sambalpur University Senate and Syndicate from 1974-77; took active part in Hirakud Dam Agitation in 1947
General Secretary Orissa Pradesh Congress Committee and President Congress Women`s Front; Member Executive Committee State level H
K
N
S
and Sambalpur District H
K
N
S

EXPIRED ON:
27/07/2022
OBITUARY MADE IN THE HOUSE ON 29/07/2022
---
NEWS: News section will be updated soon.


---
Gallery: Gallery section will be updated soon.


---
CONSTITUENCY AREA:
ADAPADA ,
BAHARAPUR ,
BALARAMPUR ,
BARADABILI ,
CHHANAMERI ,
CHUDANGAPUR ,
DAYANIDHIPUR ,
DENGADI ,
DHARAKOTE ,
DHAUGAON ,
ERENDRA ,
G.DAMODARAPALLI ,
GANGAPUR ,
GOUTAMI ,
JAGAMOHAN ,
JAHADA ,
JHADABANDHA ,
JHARAPARI ,
JURA ,
KANKARADA ,
KAUDIA ,
KHALINGI ,
MACHHAKOTE ,
MANIKYAPUR ,
MAULABHANJA ,
MUNDAMARAI ,
P. RAMACHANDRAPUR ,
PATAPUR ,
PATTIGUDA ,
PODAMARI ,
RUGUMU ,
SABA ,
SAHASPUR ,
SARADHAPUR ,
SATAPENTHA GOPALPUR ,
SINGIPUR ,
SINGIPUR ,
T.GOBINDAPUR ,
Sairindri Nayak History(Assembly records)
| | | |
| --- | --- | --- |
| 1. Indian National Congress | 7(th) | JHARSUGUDA |
| 2. Indian National Congress | 6(th) | JHARSUGUDA |
MLAs of JHARSUGUDA Constituency
Home
Profile
Initiatives
Family
The Writer