Banshidhar Pattanaik
MLA KHANDAPADA CONSTITUENCY
Reservation Type:- General
Fifth Assembly (23/03/1971-03/03/1973)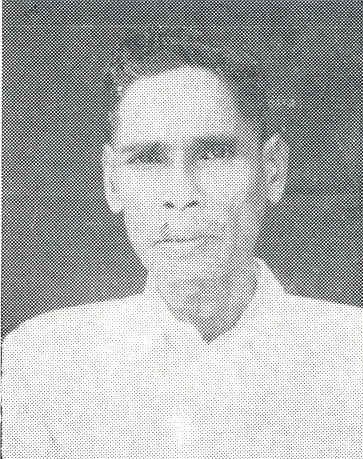 DATE OF BIRTH:01/06/2022
PARENT:Late Bhagaban Sumant Patnaik
MARITAL STATUS:Married
SPOUSE'S NAME:Smt. Buluri Patnaik
QUALIFICATION:Under Matric
PROFESSION:Cultivation
HOBBY: Social work
FAVOURITE PASTIME:Rural development work.
PERNAMENT ADDRESS:Vill.- Sanashara P.O.- Badasahara Via.- Bhapur Dist.- Puri.

---
OTHER INFORMATION:Joined National Congress 1939 being inspired by the teachings of Mahatma Gandhi; organised the local Congress Party; Joined Quit India` Movement; nominated to the U
P
C
C
as a member 1961; Sarpanch Badasahara Grama Panchayat 1952-61; chairman Bhapur Panchayat Samiti 1961 and continued till 1971 ; Took keen interest for the establishment of educational institutions in the Constituency; Member Nayagarh College Governing Body; Director of the Co-operative Bank of Nayagarh; Director of Land Mortgage Bank Nayagarh

EXPIRED ON:
02/05/2022
OBITUARY MADE IN THE HOUSE ON 01/07/2022
---
NEWS: News section will be updated soon.


---
Gallery: Gallery section will be updated soon.


---
CONSTITUENCY AREA:
ARAKHAPAL ,
BADASUANLO ,
BAISINGA ,
BALIBO ,
BALIGORAD ,
BANKUAL ,
BARUAN (B) ,
BARUAN (K) ,
BAUNSAPAL ,
BHAIRPUR ,
BHUSAL ,
BUDHIBIL ,
DAYANABIL ,
DHALAPADA ,
DIGHI ,
EKATALI ,
G.N.PRASAD ,
JAGANNATHPUR ,
JAMUNAKOTE ,
JIRAL ,
KADUA ,
KANAPURA ,
KANPAL(MAHULPAL) ,
KOTAGARA ,
KUNINDA ,
MAHULPAL ,
MARTHAPUR ,
MATHAKARAGOLA ,
MRUDANGA ,
RAYNRUSINGHPUR ,
SOGAR ,
SURAPRATAPAPUR ,
Banshidhar Pattanaik History(Assembly records)
| | | |
| --- | --- | --- |
| 1. Congress (R) | 5(th) | KHANDAPADA |
MLAs of KHANDAPADA Constituency
Home
Profile
Initiatives
Family
The Writer