Bibhuti Bhusan Singh Mardaraj
MLA KHANDAPADA CONSTITUENCY
Reservation Type:- General
Eleventh Assembly (15/03/1995-29/02/2000)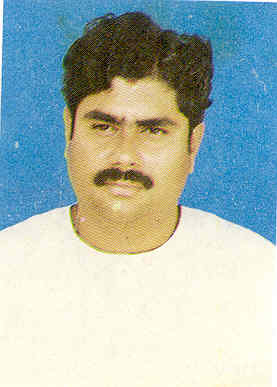 DATE OF BIRTH:04/01/2023
PARENT:Late Raja Harihar Singh Mardaraj
MARITAL STATUS:Married
SPOUSE'S NAME:Smt. Devaki Devi
QUALIFICATION:B.A
PROFESSION:Cultivation
HOBBY: Photography and Playing Cricket
FAVOURITE PASTIME:Writing articles
SPECIAL INTEREST:Tourism
SOCIAL ACTIVITIES:Attending Social Function
LITERAL ACTIVITIES:Compiled a work on "Khandapara Ithas" in English.
COUNTRY VISITED:Singapore hong Kong Maccu Italy Germany France Belgium Switzerland United Kingdom Holland & Thailand.
ADDRESS:At- Khandapara House H.L. No.- 598 Goutam Nagar Bhubaneswar Dist.- Khurda.
PERNAMENT ADDRESS:Rajbati Khandapara P.O.- Khandrapara Garh Dist.-Nayagarh Tel No-8808.

---
OTHER INFORMATION:tudent leader Presidential candidate of B
J
B
College Student`s Union
represented B
J
B
College Bhubaneswar in Table Tennis at College and University levels 1973-74 1974-75
Joined Congress(I) in 1980 after being elected Independently from Khandpara Assembly Constituency
Life member Bhubaneswar Plant Lover`s Association
Member Bhubaneswar Club Bhubaneswar
Vice-President Chinmoya Mission Bhubaneswar
Life member Bengal cricket Association Calcutta
President District Youth Congress Puri 1981-84
Member Consultative Committee for Irrigation Power and works 1982-84

---
NEWS: News section will be updated soon.


---
Gallery: Gallery section will be updated soon.


---
CONSTITUENCY AREA:
AIDA ,
AMBAPAL ,
AMBASARMUNDA ,
ANGAPADA ,
ANTULIA ,
BAMUR ,
BASUDEVPUR ,
BILEINALI ,
DHADARPAL ,
DHAURAPALI ,
GAON BOINDA ,
HANDAPA ,
HIMITIRA ,
JAGANATHAPUR ,
JAIRAT ,
JAMUDOLI ,
JAMUNALI ,
JHARABERENI ,
KADALIMUNDA ,
KAMPALA ,
KANDHAPADA ,
KANTAPADA ,
KANTEIKULIA ,
KATARANGA ,
KIAKATA ,
KOTHABHUIN ,
KRUTIBASPUR ,
KUDAGAON ,
KURUMTAP ,
LUHASINGHA ,
LUNAHANDI ,
MADHAPUR ,
MAIMURA ,
MANIKAJODI ,
MATIASAHI ,
NAGAON ,
NAKCHI ,
NUNUKAPASI ,
OSKAPALI ,
PAIKASAHI ,
PEDIPATHAR ,
PURUNAKOTE ,
PURUNAMANITRI ,
RANIAKATA ,
SANAHULA ,
SANJAMURA ,
SAPAGHAR ,
SARADHAPUR ,
TAINSI ,
TAPDHOL ,
THAKURGARH ,
TIKARAPADA ,
TUSAR ,
URUKULA ,
Bibhuti Bhusan Singh Mardaraj History(Assembly records)
| | | |
| --- | --- | --- |
| 1. Indian National Congress | 11(th) | KHANDAPADA |
| 2. Indian National Congress | 9(th) | KHANDAPADA |
| 3. Independent | 8(th) | KHANDAPADA |
MLAs of KHANDAPADA Constituency
Home
Profile
Initiatives
Family
The Writer