Raja Saheb Harihar Singh Mardaraj Bhramarabara Roy
MLA KHANDAPADA CONSTITUENCY
Reservation Type:- General
Fourth Assembly (01/03/1967-23/01/1971)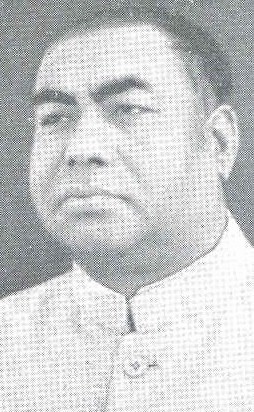 DATE OF BIRTH:26/08/2022
PARENT:Late Raja Ramchandra Singh
MARITAL STATUS:Married
SPOUSE'S NAME:Smt. S.M. Devi
QUALIFICATION:Matric Diplomain Princes College Raipur Training in Administration at Sambalpur
HOBBY: Games Shooting Flying and Photography.
SPECIAL INTEREST:Flying
COUNTRY VISITED:Continent and Ceylon
PERNAMENT ADDRESS:At/P.O.: Khandapara Garh; Dist.: Undivided Puri.

---
OTHER INFORMATION:After education and training took over the administration of Khandapara State 1934 till the States were merged
After the merger entered Political field 1952 and got elected as an Independent Candidate and joined Congress
Qualified in flying and obtained `A` Class licence
Member All-India and Bengal Flying Clubs
Secretary Orissa Flying Club

OBITUARY MADE IN THE HOUSE ON 06/09/2022
---
NEWS: News section will be updated soon.


---
Gallery: Gallery section will be updated soon.


---
CONSTITUENCY AREA:
ARAKHAPAL ,
BADASUANLO ,
BAISINGA ,
BALIBO ,
BALIGORAD ,
BANKUAL ,
BARUAN (B) ,
BARUAN (K) ,
BAUNSAPAL ,
BHAIRPUR ,
BHUSAL ,
BUDHIBIL ,
DAYANABIL ,
DHALAPADA ,
DIGHI ,
EKATALI ,
G.N.PRASAD ,
JAGANNATHPUR ,
JAMUNAKOTE ,
JIRAL ,
KADUA ,
KANAPURA ,
KANPAL(MAHULPAL) ,
KOTAGARA ,
KUNINDA ,
MAHULPAL ,
MARTHAPUR ,
MATHAKARAGOLA ,
MRUDANGA ,
RAYNRUSINGHPUR ,
SOGAR ,
SURAPRATAPAPUR ,
Raja Saheb Harihar Singh Mardaraj Bhramarabara Roy History(Assembly records)
| | | |
| --- | --- | --- |
| 1. Indian National Congress | 4(th) | KHANDAPADA |
| 2. Indian National Congress | 3(th) | KHANDAPADA |
| 3. Indian National Congress | 2(th) | KHANDAPADA |
| 4. Independent | 1(th) | KHANDAPADA |
MLAs of KHANDAPADA Constituency
Home
Profile
Initiatives
Family
The Writer