Siddharth Sekhar Singh
MLA KHANDAPADA CONSTITUENCY
Reservation Type:- General
Fourteenth Assembly (19/05/2009-18/05/2014)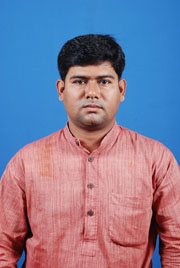 DATE OF BIRTH:15/12/2022
PARENT:Bibhuti Bhusan Singh Mardaraj
MARITAL STATUS:Married
SPOUSE'S NAME:Alokita Singh
QUALIFICATION:B.A.
PROFESSION:Social Service
HOBBY: Reading Books Playing games Meeting People Travelling.
FAVOURITE PASTIME:Reading Magazines Sports.
SPECIAL INTEREST:Travelling & Visiting Places of Interest.
SOCIAL ACTIVITIES:Helping the poor and needy.
CULTURAL ACTIVITIES:Organised various Cultural function as President BJB College.
LITERAL ACTIVITIES:Writing articles for `THE ASIAN AGE` and `THE NEW INDIAN EXPRESS`.
SPORTS AND CLUBS:Represented School & College for Cricket Played Inter-Dist Table Tennis.
COUNTRY VISITED:Nepal
ADDRESS:Khandapada House 340. Gautam Nagar Bhubaneswar - 14 Orissa.
PERNAMENT ADDRESS:RajbatiPalace Khandapadagarh Khandapada dist. Nayagarh.

---
OTHER INFORMATION:President Students` Union BJB College Bhubaneswar Sub-Editor / Reporter The Asian Age The New Indian Express

---
NEWS: News section will be updated soon.


---
Gallery: Gallery section will be updated soon.


---
CONSTITUENCY AREA:
BADA BANAPUR ,
BADASAHARA ,
BAGHUAPALLI ,
BAIGUNIA ,
BANAMALIPUR ,
BAUNSABATI ,
BENAGADIA ,
BHAGABANPUR ,
BHAPUR ,
BIJIPUR ,
BODASA ,
CHAKARADHARPRASAD ,
DHANCHANAGADA ,
FATEGARH ,
GADIA SAHI ,
GOLAPOKHARI ,
GUNTHUNI ,
JAGANNATH PRASAD ,
JOGIAPALLI ,
KAINFULIA ,
KANTILO ,
KARABARA ,
KHALISAHI ,
KIAJHARA ,
KOSKA ,
KUMBHARAPADA ,
MARDARAJPUR ,
NIMANI ,
PADMABATI ,
PATHARACHAKADA ,
RAKAMA ,
RANICHHELI ,
RANIPADA ,
RAYATI DHOLAMARA ,
SALAJHARIA ,
SALAPADA ,
SASANA ,
SIDHAMULA ,
SIKHARAPUR ,
SINGHAPADA ,
Siddharth Sekhar Singh History(Assembly records)
| | | |
| --- | --- | --- |
| 1. Biju Janata Dal | 14(th) | KHANDAPADA |
MLAs of KHANDAPADA Constituency
Home
Profile
Initiatives
Family
The Writer