Bijayalaxmi Pattnaik
MLA KHANDAPADA CONSTITUENCY
Reservation Type:- General
Thirteenth Assembly (15/05/2004-19/05/2009)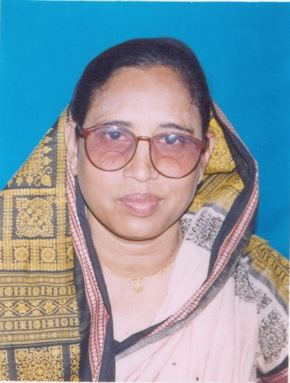 DATE OF BIRTH:30/10/2022
PARENT:Sri Hrushikesh Pattnaik
MARITAL STATUS:Widow
SPOUSE'S NAME:Late Arun Pattnaik (Ex-M.L.A.)
QUALIFICATION:B.A
PROFESSION:Housewife
HOBBY: Social Service Reading
SPECIAL INTEREST:For the upliftment of the downtrodden people giving extra importance to the women.
COUNTRY VISITED:Nepal
ADDRESS:Qr No. VIC-8/1 Bapuji Nagar Unit-1 Bhubaneswar
TELNO:2532645, 06757-230126
PERNAMENT ADDRESS:At/P.O.-Khandapara Dist.-Nayagarh.

---
---
NEWS: News section will be updated soon.


---
Gallery: Gallery section will be updated soon.


---
CONSTITUENCY AREA:
AIDA ,
AMBAPAL ,
AMBASARMUNDA ,
ANGAPADA ,
ANTULIA ,
BAMUR ,
BASUDEVPUR ,
BILEINALI ,
DHADARPAL ,
DHAURAPALI ,
GAON BOINDA ,
HANDAPA ,
HIMITIRA ,
JAGANATHAPUR ,
JAIRAT ,
JAMUDOLI ,
JAMUNALI ,
JHARABERENI ,
KADALIMUNDA ,
KAMPALA ,
KANDHAPADA ,
KANTAPADA ,
KANTEIKULIA ,
KATARANGA ,
KIAKATA ,
KOTHABHUIN ,
KRUTIBASPUR ,
KUDAGAON ,
KURUMTAP ,
LUHASINGHA ,
LUNAHANDI ,
MADHAPUR ,
MAIMURA ,
MANIKAJODI ,
MATIASAHI ,
NAGAON ,
NAKCHI ,
NUNUKAPASI ,
OSKAPALI ,
PAIKASAHI ,
PEDIPATHAR ,
PURUNAKOTE ,
PURUNAMANITRI ,
RANIAKATA ,
SANAHULA ,
SANJAMURA ,
SAPAGHAR ,
SARADHAPUR ,
TAINSI ,
TAPDHOL ,
THAKURGARH ,
TIKARAPADA ,
TUSAR ,
URUKULA ,
Bijayalaxmi Pattnaik History(Assembly records)
| | | |
| --- | --- | --- |
| 1. Independent | 13(th) | KHANDAPADA |
| 2. Biju Janata Dal | 12(th) | KHANDAPADA |
MLAs of KHANDAPADA Constituency
Home
Profile
Initiatives
Family
The Writer