Jadunath Das Mohapatra
MLA SORO CONSTITUENCY
Reservation Type:- General
Ninth Assembly (09/03/1985-03/03/1990)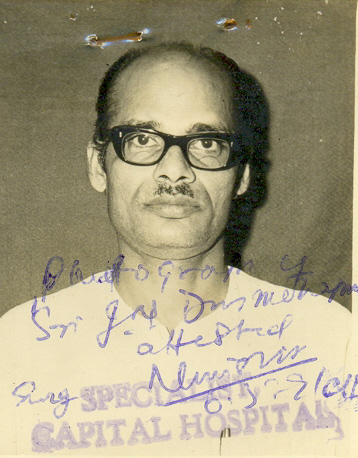 DATE OF BIRTH:01/03/2023
PARENT:Late Raj Narayan Das Mohapatra
MARITAL STATUS:Married
SPOUSE'S NAME:Smt. Laxmipriya Das
QUALIFICATION:B.A LLB
PROFESSION:Advocate
HOBBY: Writing
FAVOURITE PASTIME:Writing
SPECIAL INTEREST:Writing
LITERAL ACTIVITIES:A reputed writer of the State; Writes stories poems novels and dramas author of Oriya novels `Gramya Nadira Teere` `Bibhisika` `Manisha Rajyaran Jale` `Mruta dramas `Parasamani` `Suryamandira` `Sangram` `Bhulihuana` `Khyamakaribeki` `Setubandh
ADDRESS:At.- 212/7 Aerodram Area Bhubaneswar - 9 Dist.- Khurda.
PERNAMENT ADDRESS:At/P.O.- Nayabazar Dist- Balasore.

---
OTHER INFORMATION:A veteran student leader; President Calcutta Utkal Chhatra Sangha Joined Congress in 1962 Elected General Secretary of the Balasore D
C
C
in 1964-1967
President Balasore D
C
C> in 1967 and in 1970 for two terms elected to Orissa Assembly in March 1971 from Soro constituency and was appointed as Deputy Minister Finance in 1972

---
NEWS: News section will be updated soon.


---
Gallery: Gallery section will be updated soon.


---
CONSTITUENCY AREA:
ARDABAHAL ,
BADARAMA ,
BADMAL ,
BANKEY ,
BAURIGUDA ,
BHOJPUR ,
BOXAMA ,
CHAKULIABAHAL ,
CHANDNIMAL ,
DHUDIPALI ,
DIMIRIMUNDA ,
FASIMAL ,
GOCHHARA ,
GUNDRUCHUAN ,
HADIPALI ,
JAMANKIRA ,
JAMANKIRA ,
KASADA ,
KATANGPANI ,
KENADHIPA ,
KHANDOKATA ,
KHARSANMAL ,
KUDAPARA ,
KULUNDI ,
KUNTURA ,
KUSUMI ,
KUTURACHUA ,
MAHADA ,
MUNDHENPALI ,
PARUABHADI ,
SALEBHADI ,
SARDA ,
SIRID ,
SUBARNAPALI ,
TAINSAR ,
TELITELIMAL ,
TIKIBA ,
TIKILIPARA ,
Jadunath Das Mohapatra History(Assembly records)
| | | |
| --- | --- | --- |
| 1. Indian National Congress | 9(th) | SORO |
| 2. Indian National Congress | 6(th) | SORO |
| 3. Utkal Congress | 5(th) | SORO |
MLAs of SORO Constituency
Home
Profile
Initiatives
Family
The Writer