Pitamber Panda
MLA SORO CONSTITUENCY
Reservation Type:- General
Eighth Assembly (09/06/1980-09/03/1985)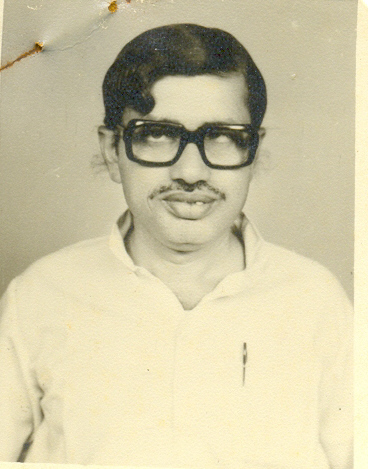 DATE OF BIRTH:23/04/2022
PARENT:Shri Jagabandhu Panda
MARITAL STATUS:Married
SPOUSE'S NAME:Smt. Susri Panda
QUALIFICATION:B.A
PROFESSION:Cultivation
HOBBY: Games music and reading;
SPECIAL INTEREST:To mix with the children and to teach them to be honest and truthful Organising the oppressed and youth classes in the home district.
SOCIAL ACTIVITIES:Organise schools and progressive activities.
LITERAL ACTIVITIES:Writing Poems.
COUNTRY VISITED:U.S.S.R 10 Republics Rumania Poland and Hungery of Eastern Europe
ADDRESS:Mechuta K. Building Kalyaninagar Cuttack-13 Dist.- Cuttack
PERNAMENT ADDRESS:Vill.-MadhusudanpurP.O.-BannbistarpurVia-Tudigadia Dist.-Balasore.

---
OTHER INFORMATION:Joined All-India Student Federation in 1953 at Bhadrak; Became the Secretary of the District All India Student Federation; Participated in the agitation of the States Reorganisation Commission 1956; Joined Communist Party in 1964; Led Railway Men`s Movement in 1974; Courted arrest several tmes specially in 1972 against price movement;Jailed in Jaleswar firing and nationwide anti-pricerise movement in August 1978
An active member of the C
P
I

EXPIRED ON:
25/03/2022
OBITUARY MADE IN THE HOUSE ON 30/06/2022
---
NEWS: News section will be updated soon.


---
Gallery: Gallery section will be updated soon.


---
CONSTITUENCY AREA:
ARDABAHAL ,
BADARAMA ,
BADMAL ,
BANKEY ,
BAURIGUDA ,
BHOJPUR ,
BOXAMA ,
CHAKULIABAHAL ,
CHANDNIMAL ,
DHUDIPALI ,
DIMIRIMUNDA ,
FASIMAL ,
GOCHHARA ,
GUNDRUCHUAN ,
HADIPALI ,
JAMANKIRA ,
JAMANKIRA ,
KASADA ,
KATANGPANI ,
KENADHIPA ,
KHANDOKATA ,
KHARSANMAL ,
KUDAPARA ,
KULUNDI ,
KUNTURA ,
KUSUMI ,
KUTURACHUA ,
MAHADA ,
MUNDHENPALI ,
PARUABHADI ,
SALEBHADI ,
SARDA ,
SIRID ,
SUBARNAPALI ,
TAINSAR ,
TELITELIMAL ,
TIKIBA ,
TIKILIPARA ,
Pitamber Panda History(Assembly records)
| | | |
| --- | --- | --- |
| 1. Communist Party of India | 8(th) | SORO |
MLAs of SORO Constituency
Home
Profile
Initiatives
Family
The Writer