Nandakishore Das
MLA SORO CONSTITUENCY
Reservation Type:- General
First Assembly (20/02/1952-04/03/1957)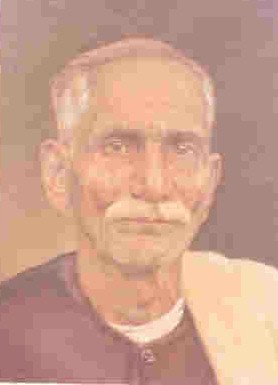 PARENT:Shri Shyam Charan Das
MARITAL STATUS:Married
QUALIFICATION:M.A
PROFESSION:Social Work
PERNAMENT ADDRESS:Vill.- Mobarokpur P.O.-Soro Dist.-Balasore Orissa.

---
OTHER INFORMATION:Joined National Movement after passing M
A
Examination of Calcutta University;Social Worker since 1920;Joined Satyabadi National School founded by the late Utkalmoni Gopabandhu Das teacher of EnglishMemberBihar and Orissa Legislative Council 19271928 and 1929; Joined civil disobedience Movements and suffered long terms of imprisonment on three occasions;Secretaryand PresidentHarijan Sewak SanghaOrissaPresidentBalesore District Congress CommitteeProvincial Congress CommitteeOrissa memberOrissa Legislative Assembly;Deputy SpeakerOrissa Legislative Assembly;MemberConstituent Assembly of IndiaProvisional Parliament of India; SpeakerOrissa Legislative Assembly for 5 years;Pradesh Convener of Bharat Sewak SamajOrissa;ChairmanStatutory Orissa Bhoodan Yagna Samiti; a constructive worker all through his public career and a habitual spinner of over 500 yards daily for the last 15 to 20 years
elected to the Rajya Sabha in April1960

EXPIRED ON:
28/06/2022
OBITUARY MADE IN THE HOUSE ON 03/09/2022
---
NEWS: News section will be updated soon.


---
Gallery: Gallery section will be updated soon.


---
CONSTITUENCY AREA:
Ampoloba ,
Atta ,
Bandhagaon ,
Bangarkota ,
Baragadia ,
Bartanda ,
Chandia ,
Chingudipal ,
Chitri ,
Deulakana ,
Dhuligarh ,
Duburi ,
Dudhujori ,
Gobardhanpur ,
Gobarghati ,
Haripur ,
Hatibari ,
Jakhapura ,
Kaliapani ,
Kankadapal ,
Kansa ,
Khapuriapada ,
Kharadi ,
Kiajhar ,
Kuhika ,
Kumbhirgadia ,
Lembo ,
Manatira ,
Mangarajpur ,
Nachhipura ,
Nadiabhanga ,
Olia ,
Ollala ,
Ostapal ,
Pankapal ,
Pimpudia ,
Pingala ,
Rachipur ,
Ranagundi ,
Ranipada ,
Ransol ,
Salijanga ,
Sansailo ,
Sarangapur ,
Sukinda Garh ,
Trijanga ,
Uchabali ,
Nandakishore Das History(Assembly records)
| | | |
| --- | --- | --- |
| 1. Indian National Congress | 1(th) | SORO |
MLAs of SORO Constituency
Home
Profile
Initiatives
Family
The Writer