Kartik Mahapatra
MLA SORO CONSTITUENCY
Reservation Type:- General
Thirteenth Assembly (15/05/2004-19/05/2009)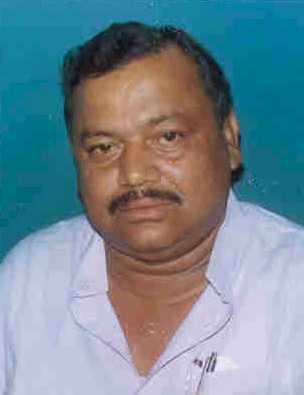 DATE OF BIRTH:02/06/2022
PARENT:Late Jaganmohan Mohapatra
MARITAL STATUS:Married
SPOUSE'S NAME:Smt. Indurani Mohapatra
QUALIFICATION:B.A. Educated at UN College Soro Utkal University (Orissa)
PROFESSION:Agriculturist Social Work Politics
HOBBY: Making friends
FAVOURITE PASTIME:Social Service
SPECIAL INTEREST:Removing the sorrows of the distressed.
SOCIAL ACTIVITIES:Involved in the development of Soro area since College days.
ADDRESS:Qrs. No. 4/2 (DS.) M.L.A. Colony Unit-IV Bhubaneswar
TELNO:426371, (06782) 2351(R) 2250(R)
PERNAMENT ADDRESS:Vill.-Champu P.O.-AngulaVia.-Soro Dist.-Balasore.

---
OTHER INFORMATION:President U
N
College Students` Union Soro 1971; Student leader Joined Communist Party of India 1972
Joined Indian National Congress in 1980; Sarapanch Balasore 1983-84; Chairman Soro Panchayat Samiti 1984-90; President Balasore D
C
C
Bank
President District Congress Committee Balasore 1991-93;
---
NEWS: News section will be updated soon.


---
Gallery: Gallery section will be updated soon.


---
CONSTITUENCY AREA:
ARDABAHAL ,
BADARAMA ,
BADMAL ,
BANKEY ,
BAURIGUDA ,
BHOJPUR ,
BOXAMA ,
CHAKULIABAHAL ,
CHANDNIMAL ,
DHUDIPALI ,
DIMIRIMUNDA ,
FASIMAL ,
GOCHHARA ,
GUNDRUCHUAN ,
HADIPALI ,
JAMANKIRA ,
JAMANKIRA ,
KASADA ,
KATANGPANI ,
KENADHIPA ,
KHANDOKATA ,
KHARSANMAL ,
KUDAPARA ,
KULUNDI ,
KUNTURA ,
KUSUMI ,
KUTURACHUA ,
MAHADA ,
MUNDHENPALI ,
PARUABHADI ,
SALEBHADI ,
SARDA ,
SIRID ,
SUBARNAPALI ,
TAINSAR ,
TELITELIMAL ,
TIKIBA ,
TIKILIPARA ,
Kartik Mahapatra History(Assembly records)
| | | |
| --- | --- | --- |
| 1. Indian National Congress | 13(th) | SORO |
| 2. Indian National Congress | 12(th) | SORO |
| 3. Indian National Congress | 11(th) | SORO |
| 4. Indian National Congress | 10(th) | SORO |
MLAs of SORO Constituency
Home
Profile
Initiatives
Family
The Writer